Dolly vs GoShare: Moving sucks. Let's just get that out of the way first. Between the packing, lugging heavy boxes, and dismantling that bookshelf you never should have bought from IKEA, it's enough to make anyone a bit grumpy. But you know what makes moving suck even worse? Hiring a sketchy, unreliable moving company that shows up late and breaks your stuff. Not ideal.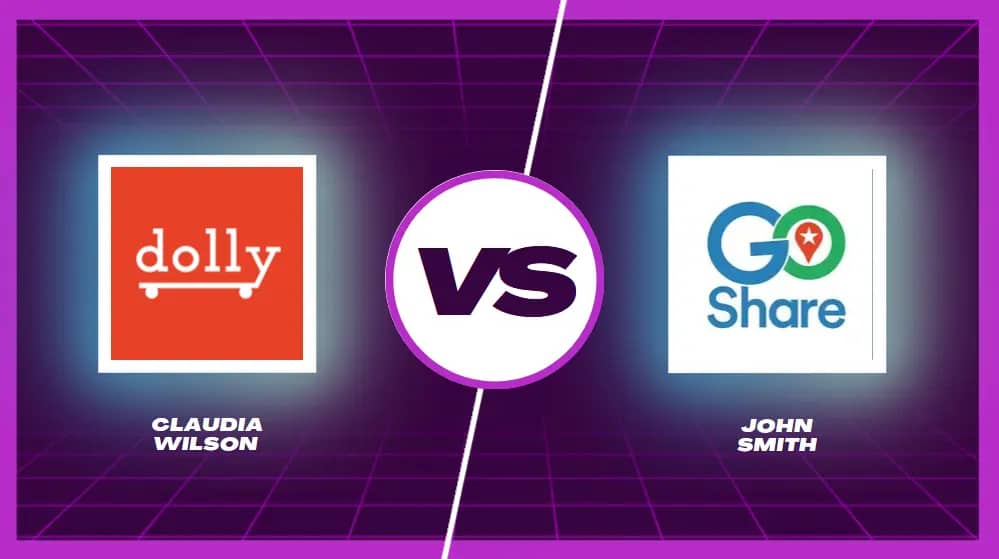 To help you make the best decision for YOU, we're putting Dolly and GoShare head to head in an all-out moving match-up. We'll compare these two heavy hitters across a bunch of categories from cost to customer service to sustainability (yep, even movers care about the environment these days). By the end, you'll have all the info you need to pick a moving service that jives with your specific needs and personality. Hey, just because moving sucks doesn't mean selecting a moving company has to. Let's do this!
Dolly vs GoShare: Brand Recognition and Availability
Dolly
Dolly is the older, more established brand in the on-demand moving space. Originally launched in 2014 as a peer-to-peer moving service, Dolly has expanded into a full-service moving marketplace available across most major U.S. cities. According to Dolly's website, their services are currently available in over 50 metros.
GoShare
GoShare, founded in 2015, has more limited availability and focused mainly on the West Coast. They currently operate in the California metro areas of Los Angeles, San Francisco, San Diego, and Sacramento. GoShare also serves Seattle, Washington.
As the larger brand, Dolly enjoys greater consumer awareness and merchant acceptance. While GoShare also has good recognition on the West Coast, Dolly is more widely known nationwide.
Winner: Dolly
Payment Options
GoShare accepts debit/prepaid card payments but does not take PayPal. Dolly takes PayPal but does not accept debit cards.
Both services accept major credit cards like Visa, Mastercard, American Express, and Discover. Dolly also integrates with Apple Pay.
For customers without credit cards, GoShare provides flexibility to pay directly from your checking account using a debit card. PayPal users may prefer Dolly for the convenience of paying from their PayPal balance. It's a split difference that favors different payment preferences.
Winner: Tie
Discounts and Promotions
Dolly
Dolly offers customers more frequent discounts and promotions than GoShare. Dolly has an active summer coupon code providing $10 off for new users. They also run periodic promos like 50% off labor costs for college students during student moving season.
GoShare
GoShare does not currently have any active coupon codes or promotions. This gives Dolly an edge for bargain seekers looking to save money. Make sure to search for Dolly promo codes before booking a move.
Winner: Dolly
Customer Service
Dolly
Reviews indicate Dolly provides superior customer service and support compared to GoShare. Dolly has an A+ rating from the Better Business Bureau with mostly positive customer feedback. Complaints are promptly addressed by customer service.
GoShare
GoShare appears to have below average customer service, based on recent reviews mentioning issues with movers arriving very late or sometimes not at all. Response from GoShare support is slow in addressing problems.
You'll likely have a smoother experience booking with Dolly's more responsive and helpful customer service team. Reliable customer support is crucial when problems arise during a stressful move.
Winner: Dolly
Brand Values and Sustainability
Dolly
Dolly prides itself on positive brand values like diversity, inclusion, and giving back to the community. The company partners with charitable organizations that help women, children, and minorities.
Dolly also has sustainability initiatives aimed at reducing carbon emissions from moves. Their carbon-neutral programs plant trees to offset atmospheric carbon released during moves.
GoShare
GoShare does not promote any specific social values, diversity policies, or sustainability programs on its website or materials.
For environmentally-conscious consumers and those passionate about social impact, Dolly aligns better with their values.
Winner: Dolly
Data Privacy and Security
Both Dolly and GoShare implement security features to protect user data and provide a safe booking experience.
Dolly
Dolly requires movers to pass background checks before joining their platform. Movers are monitored and rated after each job.
GoShare
GoShare states movers undergo screening and training processes before being onboarded. User profiles contain photo verifications.
For privacy, Dolly and GoShare have policies restricting the use of your personal data. You remain anonymous to movers until booking confirmation to prevent unsolicited contact.
Overall, Dolly edges out GoShare when it comes to privacy protections and secure data policies. User data is protected across Dolly's larger suite of apps and services.
Winner: Dolly
Pricing and Cost Comparison
Pricing is usually the biggest factor when choosing a moving service. Both Dolly and GoShare base rates on similar factors:
Size of your moving vehicle - cargo van, pickup, box truck
Distance and time required for the move
Number of movers needed for loading/unloading
GoShare
GoShare prices start at around $25 per hour for one helper using your own pickup truck. Their cargo vans rent for approximately $35-$50 per hour depending on location. Minimum 2 hours required.
Dolly
With Dolly, hourly rates range from $30-$50 per mover if you supply the vehicle. Cargo van rentals are $60-$80 per hour on average. 2 hour minimum rental.
For a basic 1-2 bedroom move within 15 miles using a standard cargo van, estimated costs are pretty comparable at around $150-$250. GoShare is slightly more affordable for shorter moves under 2 hours.
Outside of GoShare's operating regions, Dolly will be your only option. Within the cities served by both, GoShare offers lower hourly pricing in most cases.
Winner: GoShare
The Verdict
When choosing between Dolly and GoShare, consider which factors are most important for your particular moving situation.
Based on brand recognition, discounts, values, and customer service - Dolly is the superior choice in most categories. Dolly moves win for overall quality and reliability.
But for shorter, small-scale moves in GoShare's service regions - their lower hourly rates provide the best value. GoShare is a good budget choice on the West Coast.
At the end of the day, you can't go wrong using either service. Dolly and GoShare both get the job done with minimal stress. Pick the option that best matches your location, priorities, and budget.