I want to give a big thanks to bloggerspassion, SEOchatter, and TentoRead for creating their own fantastic lists of Free Guest Blogging Sites! This FREE list is a compilation of all three, so you can easily explore a wide range of resources and find the best sites to boost your blog's visibility. Here is the list of blogs and websites that accept guest posts.
SEO Sites
Blogging Sites
Marketing Sites
Business Sites
Social Media Marketing Sites
Email Marketing Sites
Technology Sites
Digital Marketing
Entertainment Sites
Web Design & Web Development
Health /Fitness Sites
Finance Sites
Travel Sites
Photography Sites
Food Sites
Fashion Sites
Dogs /Pets Sites
Education Sites
Political Sites
Make Money Online
Sports Sites
Entrepreneurship Sites
Self-Development / Spirituality
Family Write for us
Real Estate Sites
Lifestyle Sites
News Websites
Law Websites
Home Improvement Websites
Guest Posting for Dummies: How to Annoy Your Readers and Drive Traffic Away!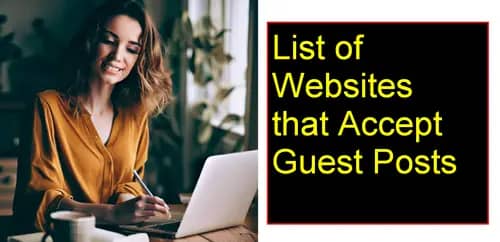 Choosing the right topic is paramount to the success of your guest post. To come up with a rock-solid guest post idea, it's important to think like a reader. Analyze the blog's audience and go through their commenting section and social media profiles to understand what type of content resonates with them.
Don't forget to do some quick research around the blog you want to guest post on. One way to do this is by going through their archive page or popular posts section. This will help you come up with topic ideas that you can add a unique angle to, making your guest post stand out and more likely to be accepted.
Another great platform to use for topic generation is Quora. With millions of users worldwide, Quora is the #1 Q&A platform that can help you find popular and trending questions around your niche. By using Quora, you can come up with topic ideas for your guest post that are sure to resonate with the blog's audience.
However, just having a great topic isn't enough. It's important to ensure that your guest post is well-written and engaging. So, make sure to take the time to craft your guest post carefully, adding plenty of examples and details to make it more interesting and informative for readers.
How to Get My Guest Posting Accepted (Take Forbes As an example)?
Forbes is a highly authoritative website with a Domain Authority (DA) score of 95, making it a desirable target for backlinks. On average, Forbes attracts a massive 119.4 million visitors every month, which is a testament to its popularity and influence in the online community. As a result, getting links from Forbes can be a major boost for your website's reputation and visibility.
However, it's important to note that acquiring links from Forbes can be a challenging task, and often requires a stroke of luck. This is because Forbes receives a tremendous volume of requests for backlinks, and only a fraction of these requests are granted. Nonetheless, don't lose heart just yet.
Become a Trusted Source
If you want to become a go-to source for bloggers and journalists, it's essential to provide unique and valuable insights that they can't find elsewhere. One way to achieve this is by conducting in-depth research and presenting compelling statistics that back up your arguments and positions.
By using data to illustrate your points, you can provide a more persuasive and authoritative perspective that captures the attention of your audience. This also helps to establish you as a credible and trustworthy source of information, which can go a long way in building your reputation and earning the respect of your peers.
Another effective strategy is to offer a new truth or solution that challenges existing beliefs or practices. This can be achieved by thinking outside the box and presenting unconventional ideas that are backed by solid evidence. By providing a fresh perspective on a topic, you can set yourself apart from others in your field and become a sought-after source for journalists and bloggers.
Using Journalist Keywords to Boost Your Backlink Strategy
One effective way to enhance your backlink strategy is by identifying journalist keywords that are relevant to your niche. These are the keywords and topics that journalists frequently use when writing articles, and can help you identify linkable content that is likely to attract their attention.
For instance, if you are in the freelance industry, journalist keywords such as "Upwork statistics," "Upwork usage," and "Upwork trends" could be useful in finding linkable content that pertains to your field. By incorporating these keywords into your content and outreach efforts, you can increase the likelihood of your website being featured in relevant articles and earning valuable backlinks.
Other examples of journalist keywords that could be relevant to your niche include "industry trends," "market research," "case studies," and "expert insights." By using these keywords to guide your content creation and outreach efforts, you can ensure that your website is always on the radar of journalists and bloggers looking for valuable insights and information.
How to give your linkable content the best chance of being picked up by a journalist?
Collecting Reliable Data: Using Trusted Sources to Strengthen Your Research
It's crucial to gather data from reliable and trustworthy sources. This not only ensures the accuracy and credibility of your findings but also helps you build a reputation as a credible and trustworthy source of information.
Some examples of trusted sources that you can use to collect data include Statista, government websites, and Google News. Statista is a leading provider of market and consumer data, while government websites offer access to a wealth of official statistics and reports. Google News can be useful for tracking current events and trends while conducting your own research poll can provide valuable insights into the opinions and preferences of your target audience.
Other reliable sources of data include industry associations, academic journals, and established research companies. By gathering data from a variety of trusted sources, you can ensure that your research is comprehensive, accurate, and up-to-date, which can help you stand out from competitors and earn the trust of your audience.
Formatting for Success: Using Tables, Images, and Lists to Boost Your SEO and Backlink Strategy
Formatting can be just as important as the quality of your writing. By using tables, images, and lists, you can present information in a visually appealing and easy-to-digest format that can help you attract more readers, boost your SEO, and earn valuable backlinks.
Tables are particularly useful for presenting complex data in a clear and concise manner. By organizing data into rows and columns, you can make it easier for readers to understand and analyze, which can increase their engagement and improve their overall experience. This can also increase your chances of being featured in Google's featured snippets, which are displayed at the top of search results and can drive a significant amount of traffic to your site.
Lists are another effective formatting tool that can help you enhance your content and improve your SEO. By breaking up long paragraphs into bullet points or numbered lists, you can make your content more scannable and easier to read. This can also help you earn backlinks from authoritative sites like Forbes, which often feature content in list format.
Finally, images are a powerful way to add visual interest and context to your content. By using high-quality images that are relevant to your topic, you can enhance your readers' understanding and engagement, and make your content more shareable on social media.