Hey there! Victor here, and I'm pumped to share some of the best "meet the owner" examples I've come across. As a small business owner myself, I know how important it is to connect with customers on a personal level. Nothing beats being able to put a face and personality to a brand.
But it ain't easy coming up with creative ways to introduce yourself and share your story. Between running your business, pleasing customers, and battling giant corporations trying to squash you like a bug under their shoe, you don't exactly have time to come up with viral marketing campaigns. Am I right?
Alright, enough jibber-jabber. Let's get to the good stuff and meet these creative entrepreneurs!
#1 I'm the owner of John's Pizzeria
Hi everyone, my name is John and I'm the owner of John's Pizzeria. I just wanted to take a moment to introduce myself. I opened this pizzeria 5 years ago because I have a true passion for pizza making. I use family recipes that have been passed down to me from my Italian grandparents who immigrated here. All our ingredients are fresh and our dough is made from scratch every morning. My goal is to serve the best pizza in town with top notch customer service. I'm very hands-on here at the restaurant - you'll usually find me greeting customers, making pizzas, and ensuring everything runs smoothly. I love getting to know our regulars and making sure everyone has a great experience at my pizzeria. Please feel free to introduce yourself next time you stop by. I'm always happy to meet our wonderful customers. Thanks for supporting our local business!

John
#2 I'm the owner of Sarah's Bakery
Hello everyone! My name is Sarah and I'm the proud owner of Sarah's Bakery. I've been baking for as long as I can remember - some of my favorite childhood memories are baking cookies with my grandmother. She taught me all her secret recipes that I still use in the bakery today. After working at a few different bakeries over the years and developing my skills, I decided to take the leap and open Sarah's Bakery 5 years ago. My goal is to create high quality, delicious baked goods with simple, fresh ingredients. Everything is baked from scratch daily. I love being able to share my passion for baking with the community. You'll usually find me here at the bakery decorating cakes, serving customers, or dreaming up new recipes. Please come say hi next time you stop by - I love meeting my customers! It means so much to me that you support this small, woman-owned business. Your support helps keep my baking dream alive! Thank you and I hope to see you soon!

Sarah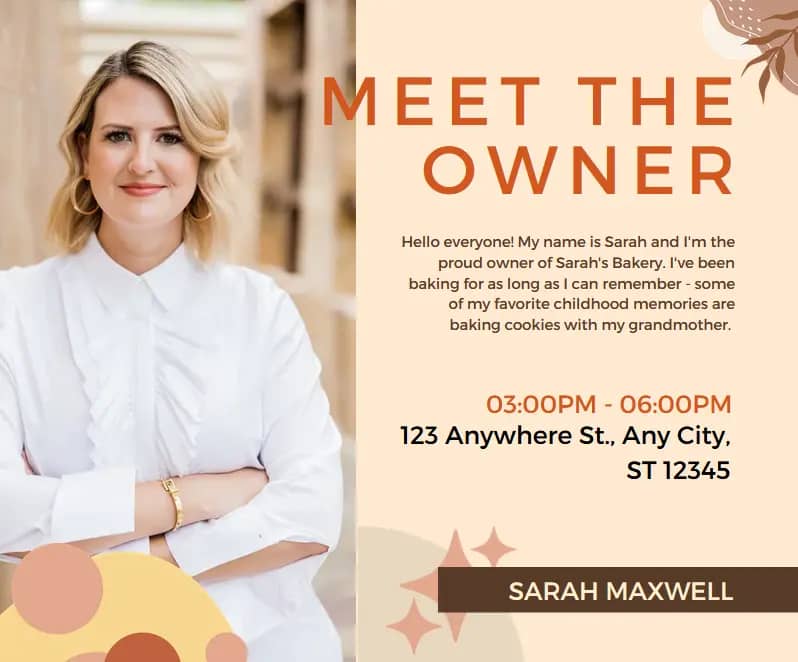 #3 Meet the Owner of John's Coffee Shop
Meet John, the proud owner of John's Coffee Shop. John has always loved coffee and dreamed of opening his own coffee shop. After 15 years of working office jobs, John decided to take a leap of faith and open his coffee shop in his hometown.

John wakes up every morning at 5 AM to open the shop and prepare the high-quality coffee he serves. His favorite part of the day is when customers come in and he gets to chat with them while making their coffee. John takes great pride in knowing each customer's name and favorite drink. He samples new roasts and selects only the best blends to serve in his shop.

In his spare time, John experiments with new coffee recipes and baked goods to offer his customers. His motto is "Life is too short for bad coffee." John loves bringing people together over great cups of coffee and providing a welcoming neighborhood spot. His passion and care for coffee shine through in everything he does for his shop. Next time you're looking for an expertly crafted cup of coffee, stop by John's Coffee Shop and meet the owner!

John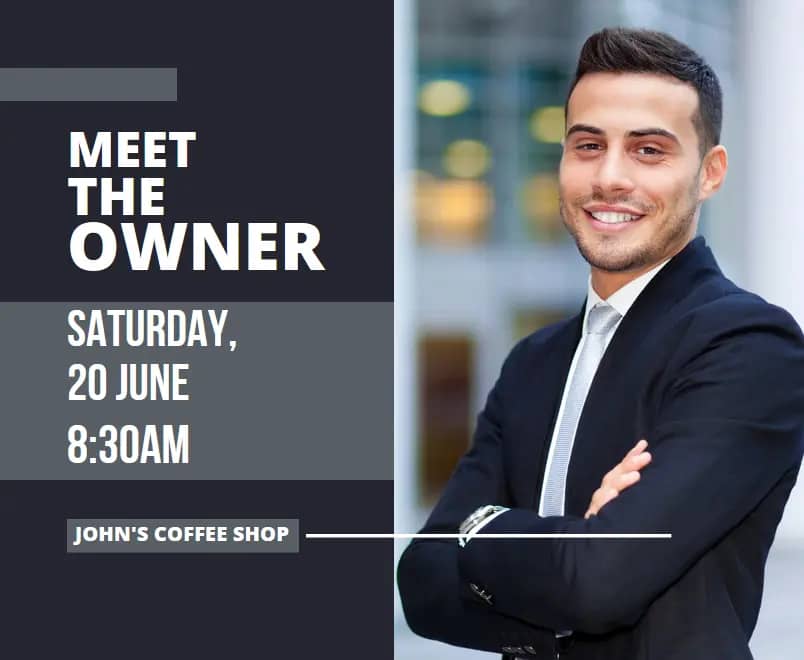 #4 Meet the Owner of Mark's Health Clinic
Meet Mark, the dedicated owner of Mark's Health Clinic. Mark always had a passion for helping people and a knack for science. After graduating at the top of his med school class, he decided to open his own practice.

For 25 years, Mark's Health Clinic has been the trusted medical facility in town. Patients appreciate Mark's kindness, knowledge and commitment to their wellbeing. You can find him at the clinic every day, often working 12+ hour shifts to make sure every patient is cared for.

Mark takes the time to truly listen to each patient's health concerns. With his expertise, he provides an accurate diagnosis and thoughtful treatment plan. Mark also hired excellent doctors and nurses who share his patient-first philosophy.

When he's not caring for patients, Mark is keeping up with the latest medical research and treatments. He always strives to improve his clinic with state-of-the-art technology and facilities. Mark is especially proud that his clinic offers affordable care to those in need.

For Mark, the best part of his job is seeing his patients get better and knowing he made a difference in their lives. His dedication and care for the community shine through in everything he does. If you're looking for a doctor who truly cares, meet the wonderful owner at Mark's Health Clinic.

Mark
#5 Meet the Owner of Ryan's Marketing Agency
Meet Ryan, the passionate owner of Ryan's Marketing Agency. Ryan's interest in marketing started in college when he ran successful campaigns for local businesses. After getting his business degree, he decided to open his own marketing agency.

For over 10 years, Ryan's Marketing Agency has helped businesses boost their brand awareness and increase sales. Ryan starts each day energized, ready to develop creative strategies for his clients. He collaborates closely with clients to really understand their target audience and goals.

With his innovative ideas and marketing expertise, Ryan creates customized plans spanning print, digital, and social media marketing. He always brainstorms outside-the-box strategies tailored to reach each client's audience. Ryan also oversees his talented team of designers, developers and writers to execute marketing campaigns effectively.

In his spare time, Ryan researches the latest marketing trends and new platforms. His dedication is evident in the award-winning work his agency consistently delivers. Ryan loves being able to use his creativity and passion for marketing to help businesses succeed. His enthusiasm is infectious and helps inspire his team daily. If you're looking for a smart marketing strategy, meet the agency owner who truly cares about results - Ryan!

Ryan