New Website Not Showing In Google Search? It is a headache. So I've made a checklist for green hands in case they are haunted by pitfalls.
#1 Choose the Right Domain Name
Choose a short, memorable domain name.
Many people think choosing a domain is complicated.
Actually, it's not. Domains with keywords have an advantage for rankings, but if it's awkward or hard to remember, a good brandable domain is better.
Once you decide on the domain, check a registrar like Namecheap to see if it's available.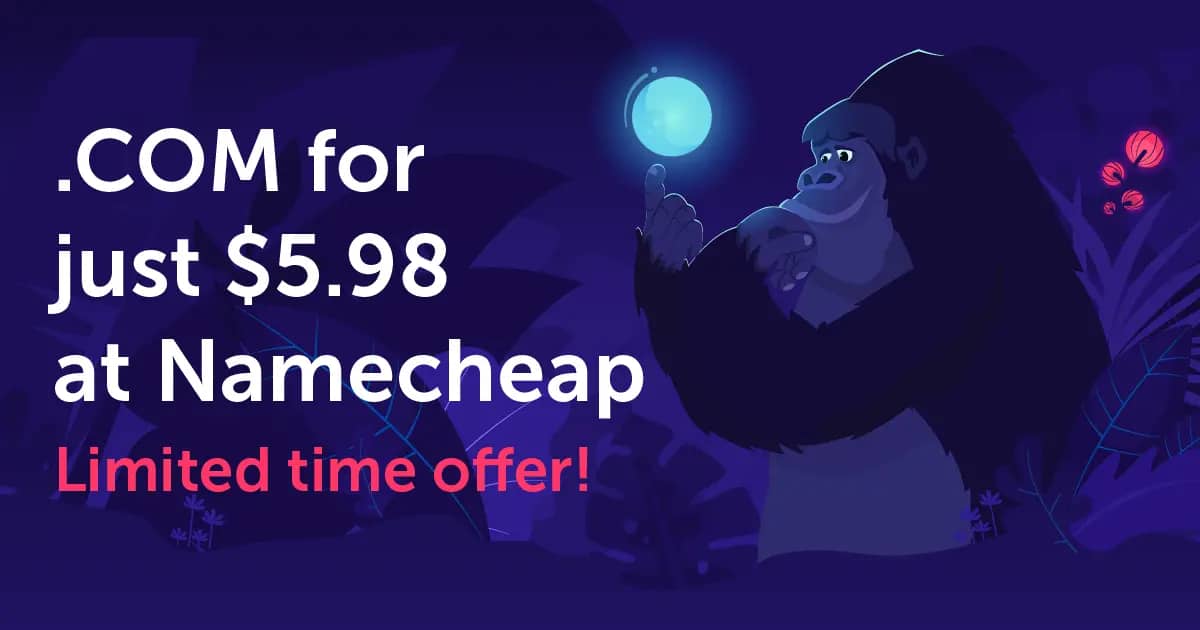 #2 Choose a Website Builder
There are two types of site builders:
Hosted platforms - These host your site and provide ready-made designs. You can add and edit content without coding. A good example is Weblium.
Self-hosted platforms - You can add and edit content with or without coding, but you have to install and maintain it yourself. Examples are WordPress and Ghost.
Many SEOs prefer WordPress because it's a customizable open source self-hosted platform. You can fully customize it without coding, and it's very secure.
Shopify is also popular for its out-of-the-box use, but it's not very SEO-friendly and costs more.
#3 Choose a Web Host
If you use a self-hosted platform, you'll need a web host.
When choosing a host, focus on:
Security - They should provide a free SSL/TLS certificate
Support - good customer service in case issues come up
Location - This is critical. Many opt for hosts in their own country, but that's a mistake. Data takes time to transfer between the server and visitors. So it's best to choose a host in the same region as your target market.

#4 Get SEO Tools Ready
Set up Google Search Console and Ahrefs Site Explorer.
Register GSC with your Google account. It helps find technical errors, submit sitemaps, etc.
Google will prompt you to verify domain ownership. Just enter your domain.
Verify in GSC using a CNAME record. See Google's help if unsure.
Plan your site architecture.
This is the structure and pages like the homepage, category pages, product pages, etc.
It helps visitors and search engines easily find content.
Be sure to add internal links. This is how Google finds new pages on your site and helps with rankings.
Structure URLs properly.
URL structure should be clear and logical for SEO.
More clarity helps Google understand context and relevance. It also helps users identify product attributes.
Other technical considerations:
Encrypt your site with SSL/TLS to protect information.
Ensure your site is mobile-friendly. Most searches are on phones now, so optimize for all devices.
Avoid intrusive ads that appear before content loads. Users and Google dislike them.
Check site speed with PageSpeed Insights. Aim for under 3 seconds of load time.
#5 Do Keyword Research
The first and most important step in SEO is knowing what your audience is searching for - keyword research. But most skip this complex step.
The easiest way is using a keyword tool like Ahrefs' free keyword generator.
Enter a topic and you'll get 100+ related keywords.
For a quality keyword research effort, you'll end up with thousands of keywords, knowing the ranking difficulty and estimated traffic for each.
If you haven't reached this level, I'd suggest taking our keyword research course.
#6 Create Content that Matches Search Intent
What is search intent?
Many mistakenly optimize just for keywords. But you need to identify the intent behind searches and create content that satisfies it.
Look at top-ranking pages to determine the type, format, and angle of content.
Cover important subtopics - Look at what top pages cover and include those subtopics too.
Keep plagiarism under 5% - aim for original content, don't just copy other indexed pages.
Make content easy to understand - clear structure, short sentences, readability under 8th grade level.
Avoid big blocks of text. We recommend no more than 3 lines per paragraph.
Use numbers, symbols, images, etc. to aid reading.
#7 Do Social Sharing
After foundational optimization, do social sharing to help Google find and index your site faster.
Post on communities like Reddit and Slack.
Do email campaigns. Just avoid spam.
#8 Track Rankings
Keep tracking site data to analyze results and further optimize.
Ahrefs' rank tracking works great. Just add target keywords.
It shows keyword ranks, changes, increases, and decreases very clearly.
For a new site launch, follow these steps generally. Then add links, advanced content optimization, etc. later based on feedback.