Piano Analytics Vs. Google Analytics: Google Analytics has been the dominant web analytics platform for years. However, with increased data privacy regulations, security risks, and lack of customization for publishers, many companies are migrating to more robust solutions like Piano Analytics.
In this comprehensive guide, we'll explore key areas where Piano Analytics outperforms Google Analytics.
For each section, we'll provide real-world examples and tutorials demonstrating Piano's advantages to give you actionable insights on enhancing your analytics.
Compliance with Data Privacy Regulations
With regulations like GDPR and CCPA in full effect, compliance is no longer optional. Fines and reputational damage from non-compliance can be severe. Google Analytics has faced mounting legal pressure regarding data privacy:
This creates significant risk for current Analytics customers. However, Piano Analytics is purpose-built to comply with global data privacy laws.
Piano's Consent Mode is approved by CNIL to exempt the collection of cookie consent under ePrivacy laws. This allows Piano to lawfully collect analytics data from all site visitors - even those who deny cookie tracking.
Piano's consent-exempt data collection Vs. Google Analytics:
Piano Analytics Developers Documentation
The user visits the site and denies cookie tracking via the consent banner.
The site can't set GA cookies to track users with analytics data.
User activity is never recorded, skewing analytics.
With Piano, publishers get a complete and lawful view of all user interactions regardless of cookie consent.
Additionally, Piano's data processing adheres to GDPR standards with data anonymization, encryption, and access controls. Piano underwent a GDPR audit finding no major deficiencies.
By leveraging Piano Analytics, publishers reduce legal risk and create trust with users by proactively addressing data privacy.
Superior Data Security Protections
Analyzing website traffic and user behavior requires collecting meaningful data. But balancing analytics value and privacy is crucial.
Google Analytics has faced backlash for excessive data collection across websites. As an advertising company, Google has incentives to gather as much user data as possible.
Piano Analytics takes a privacy-first approach collecting only data needed for analytics purposes:
IP addresses are anonymized via one-way encryption.
Strong access controls limit internal data access.
Behavioral data points are minimized to protect privacy.
Publisher data is never shared or used for external advertising.
In addition, Piano provides dedicated single-tenant cloud hosting in secure data centers. This isolates each customer's data unlike Google's multi-tenant Cloud environment with inherent security risks.
With regular headlines about cyber-attacks and data exposures, analytics security should be top of mind for every publisher. Compare Piano's privacy-focused data practices to Google's questionable collection, usage, and security flaws to make the best decision for your organization and users.
Greater Accuracy and Reliability
Analytics is invaluable for strategic decisions - but only if the underlying data is accurate and trustworthy. Google Analytics faces reliability issues on core metrics:
Traffic and conversion modeling isn't transparent and frequently overcounts.
Device/browser tracking is limited without extensive implementation.
Data between sites and platforms cannot be easily joined for single customer views.
This leads to data discrepancies and incorrect reporting. Piano Analytics takes a different approach entirely with deterministic, straightforward tracking:
Direct site integration enables accurate tracking of all interactions.
Data ingestion avoids modeled extrapolation of traffic and conversions.
Piano ID synchronizes identity across devices in a privacy-safe manner.
Customer 360 provides complete behavioral profiles across platforms.
Piano Analytics' Deterministic Tracking in Creating Funnels:
Piano uses Snowflake as a central repository for all the data in their business.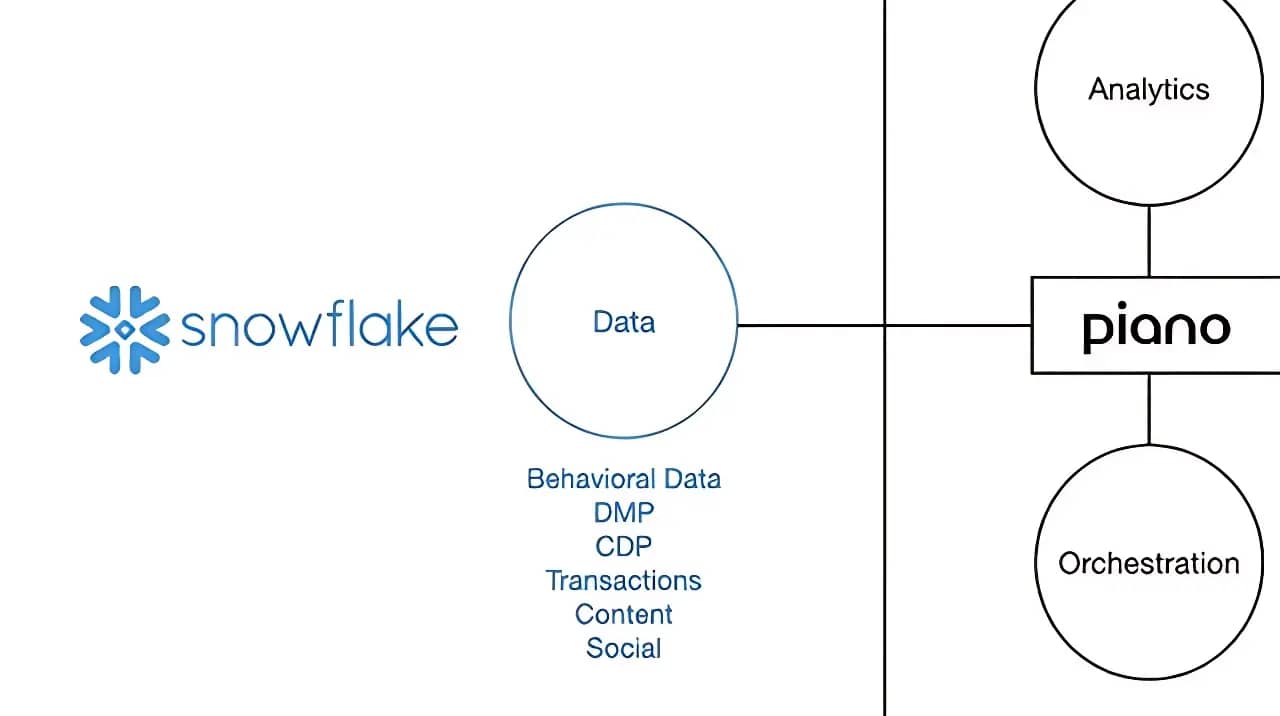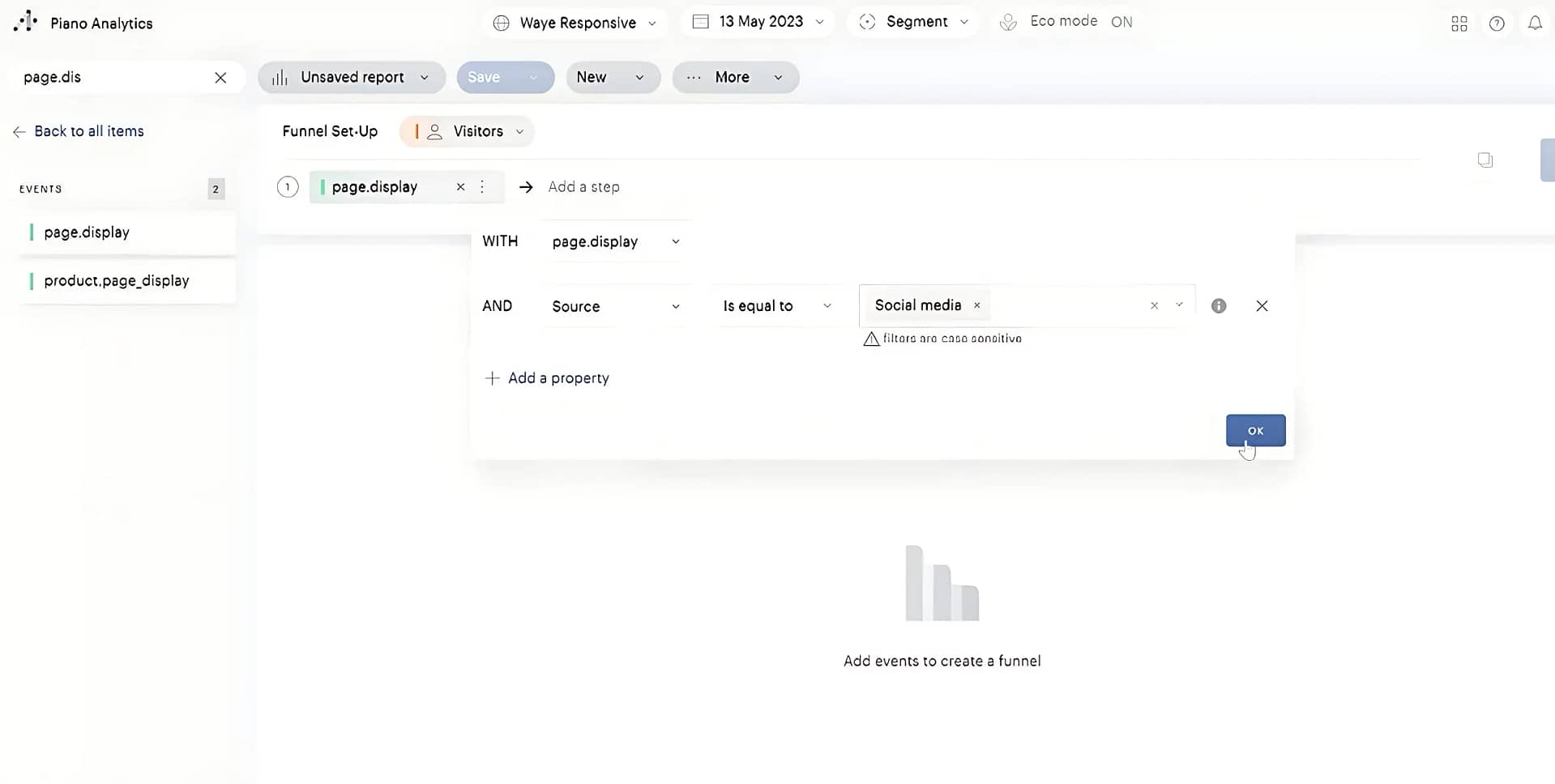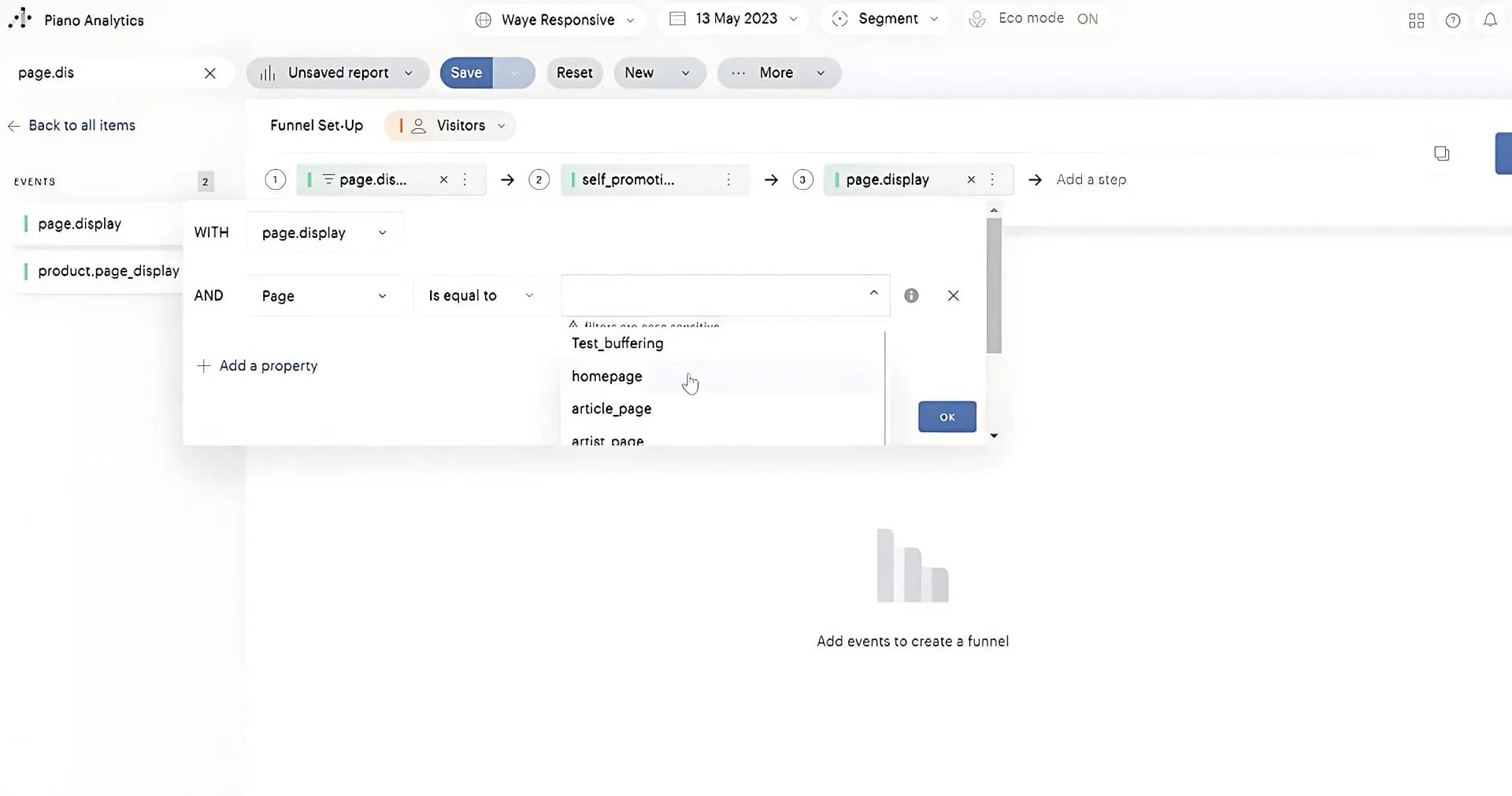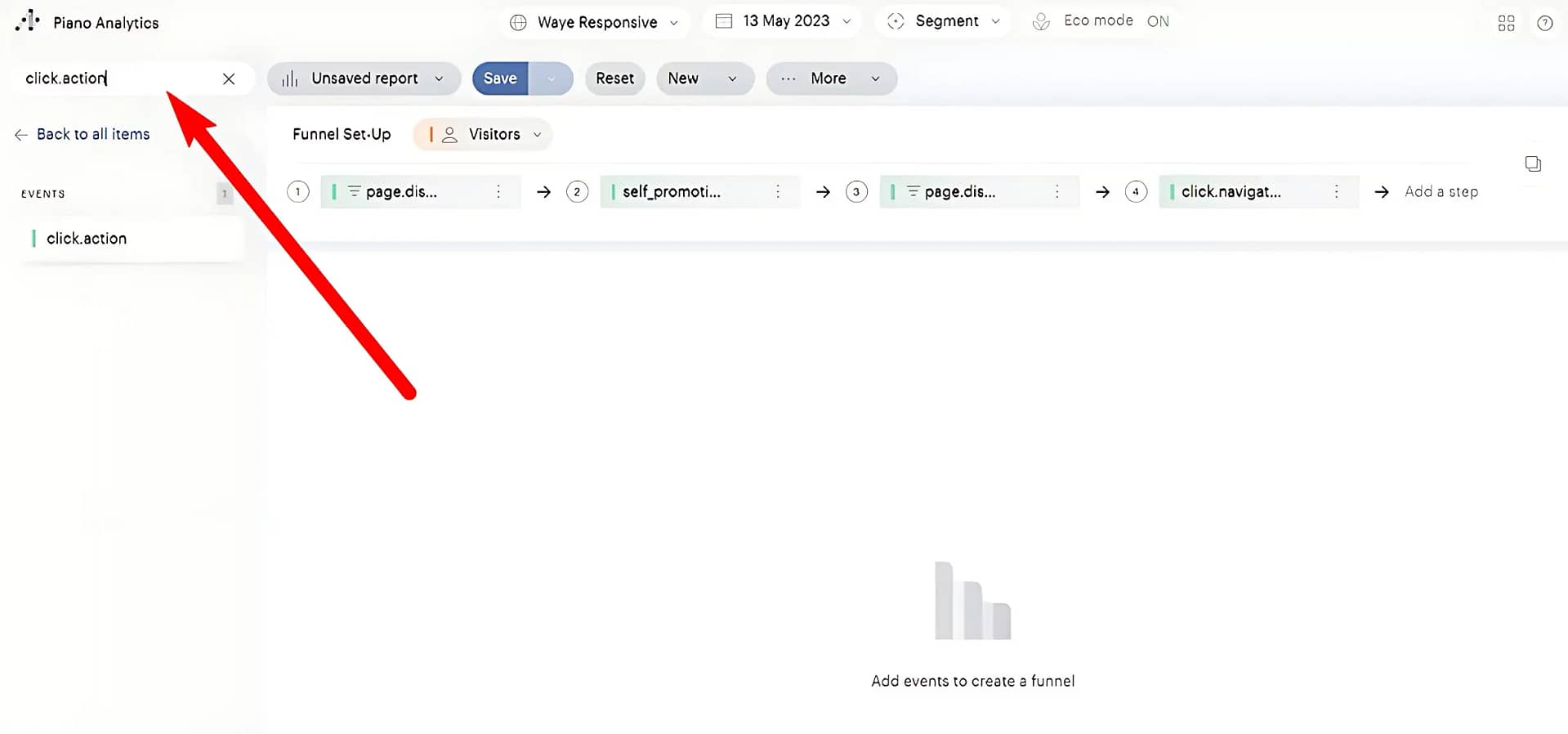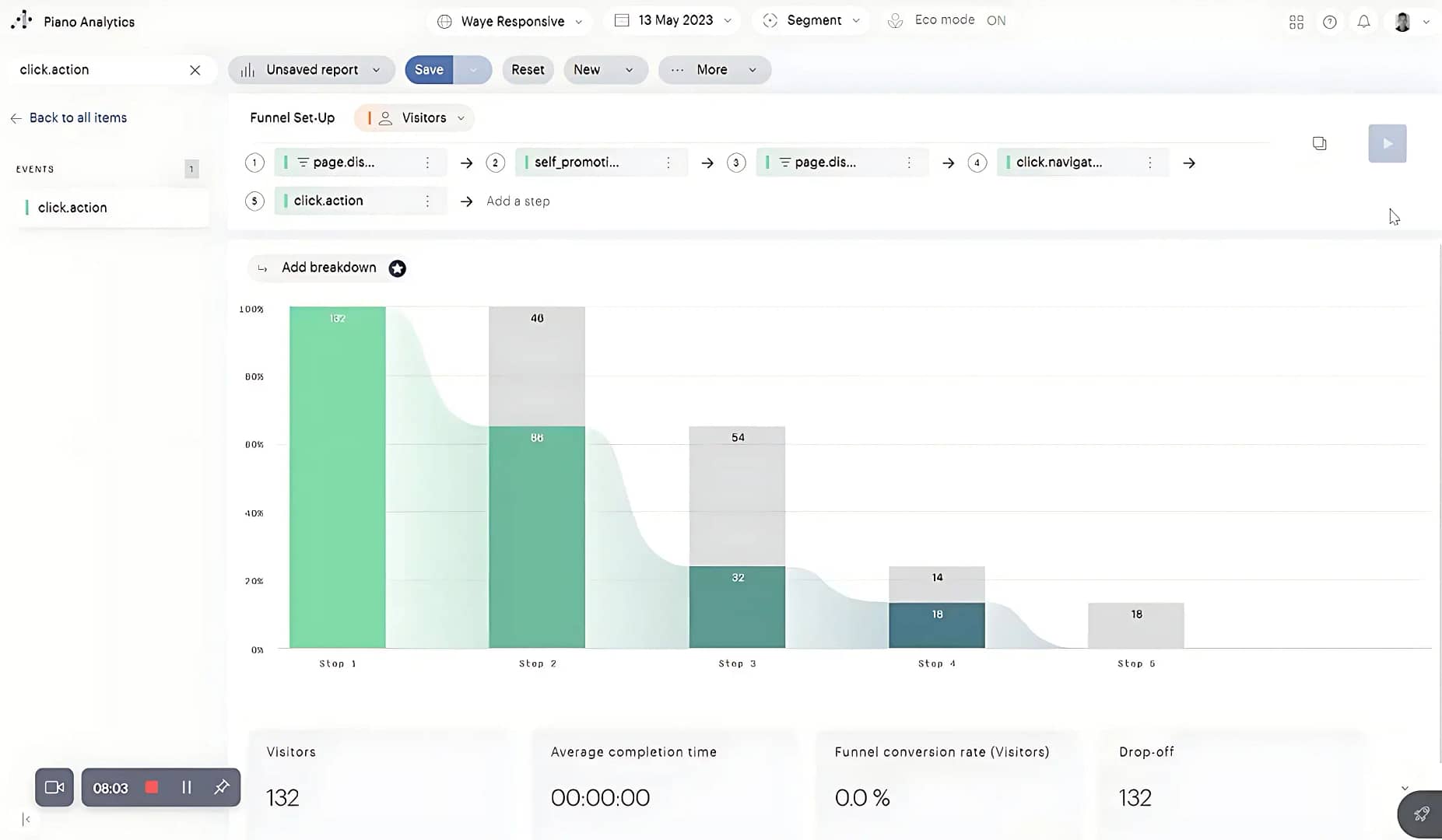 For each of yourstep you have access to multiple information:
- Visits/visitors/users going through and stopping at this step
- Repartition
- Time spent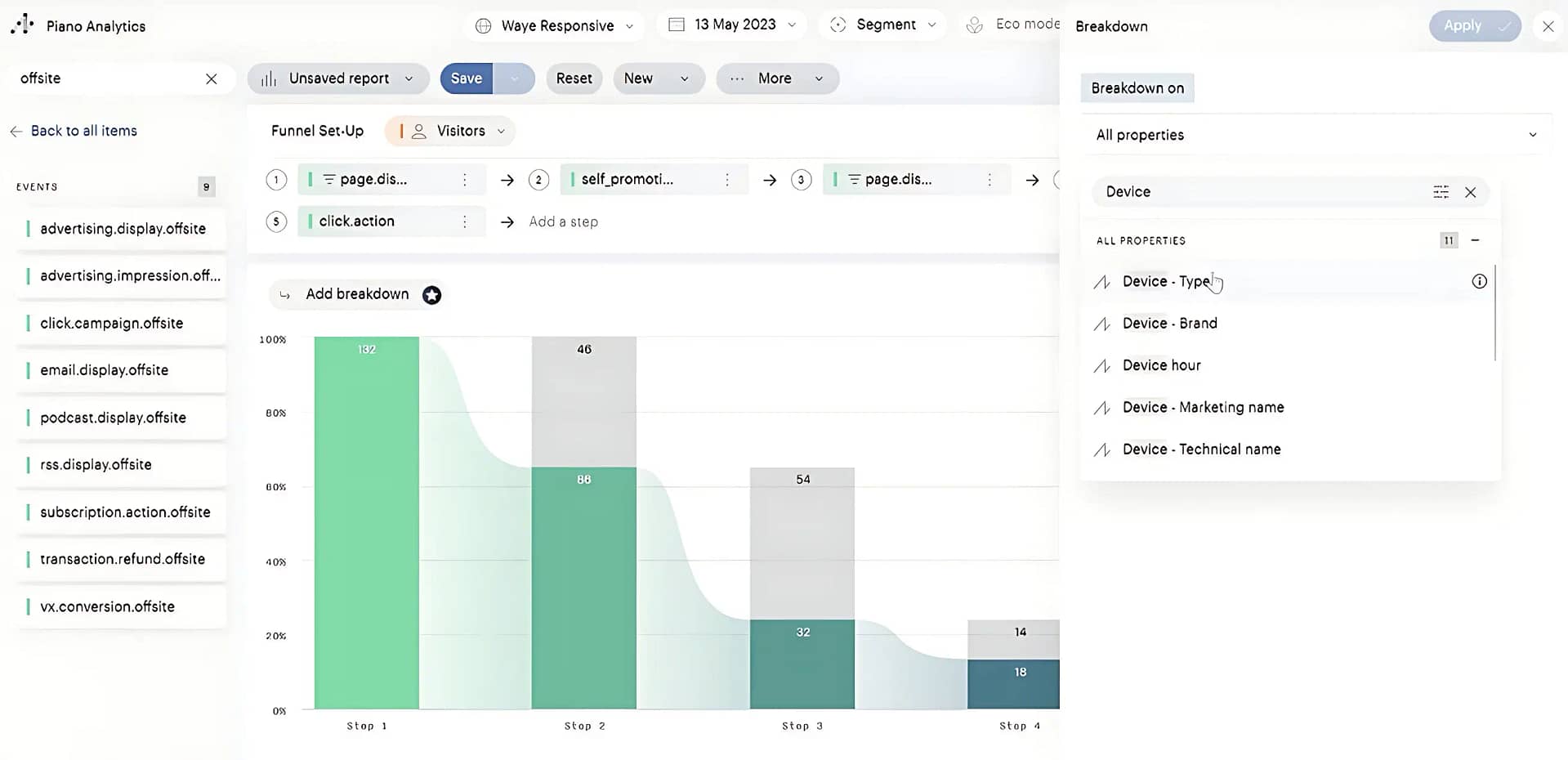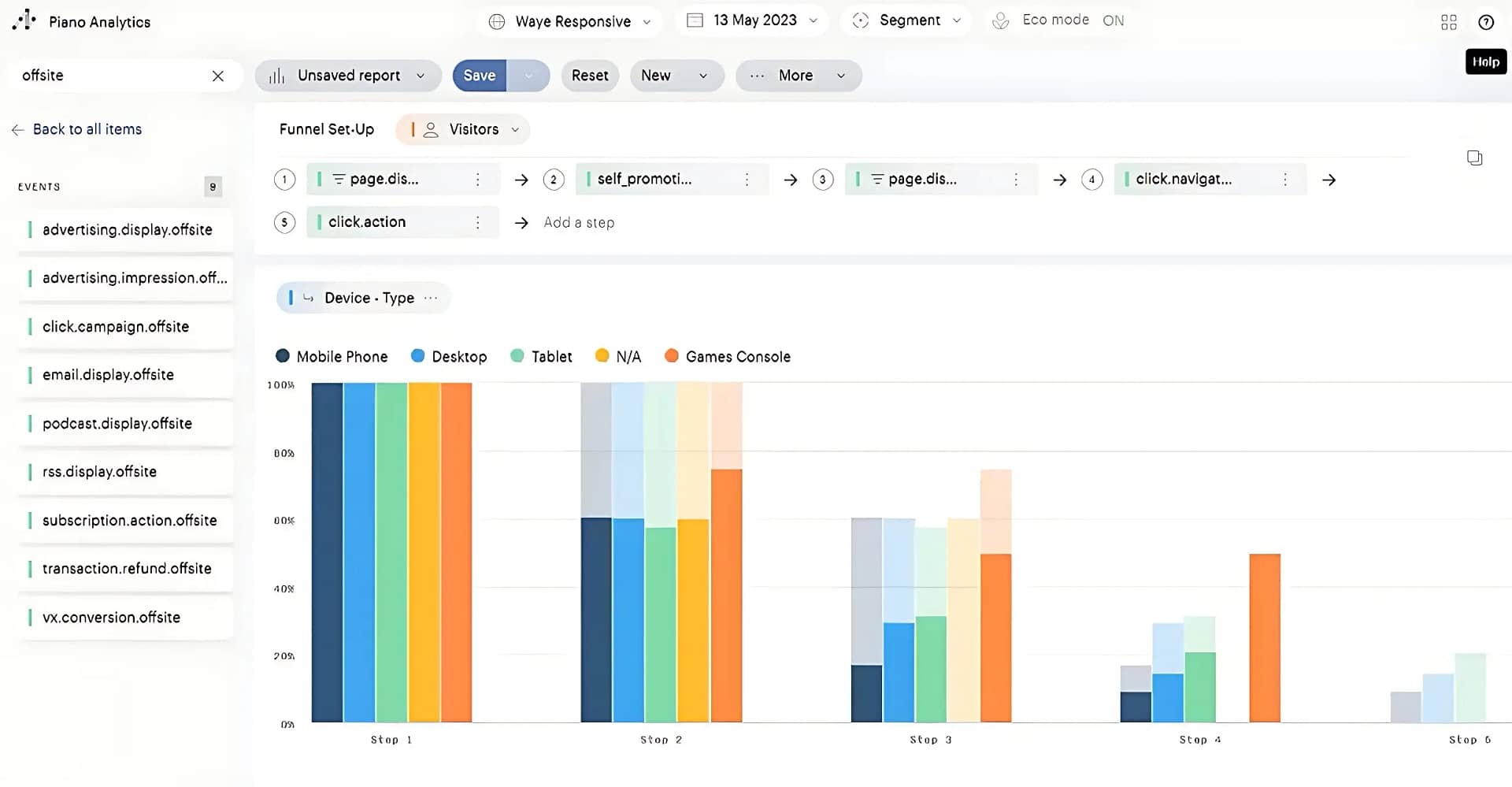 Thanks to this new feature "breakdown", you can apply a property on the first step and see how the value of it will impact the funnel.For instance, you can look at devices, subscription type etc.
In one click you can also create a segment from here and use it everywhere in the solution.
User visits a site and Piano directly records their visit in analytics.
The user registers on the site. Piano accurately tracks this conversion in analytics.
On another device, the user returns to the site. Piano ID matches their identity while maintaining privacy.
No guessing is required! Publishers get a crystal clear picture of visitor behavior with Piano Analytics - not estimations prone to inflation.
Precision measurement fuels data-driven decisions. With Piano, publishers can confidently optimize content performance, campaign ROI, funnel conversion, and more.
Purpose-Built Features for Publishers
Google Analytics serves general analytics use cases.
For publishers and media companies, GA lacks specialized functionality that Piano Analytics provides out-of-the-box:
Paywall integration to analyze subscriptions and conversion.
Subscription forecasting for modeling future revenue.
Engagement scoring for optimizing content.
Audience segmentation tools like subscription propensity.
Lower churn prediction with machine learning algorithms.
Built-in support for advanced subscription models.
Let's walk through a common use case where Piano Analytics provides purpose-built capabilities for publishers: optimizing subscriber conversion funnels.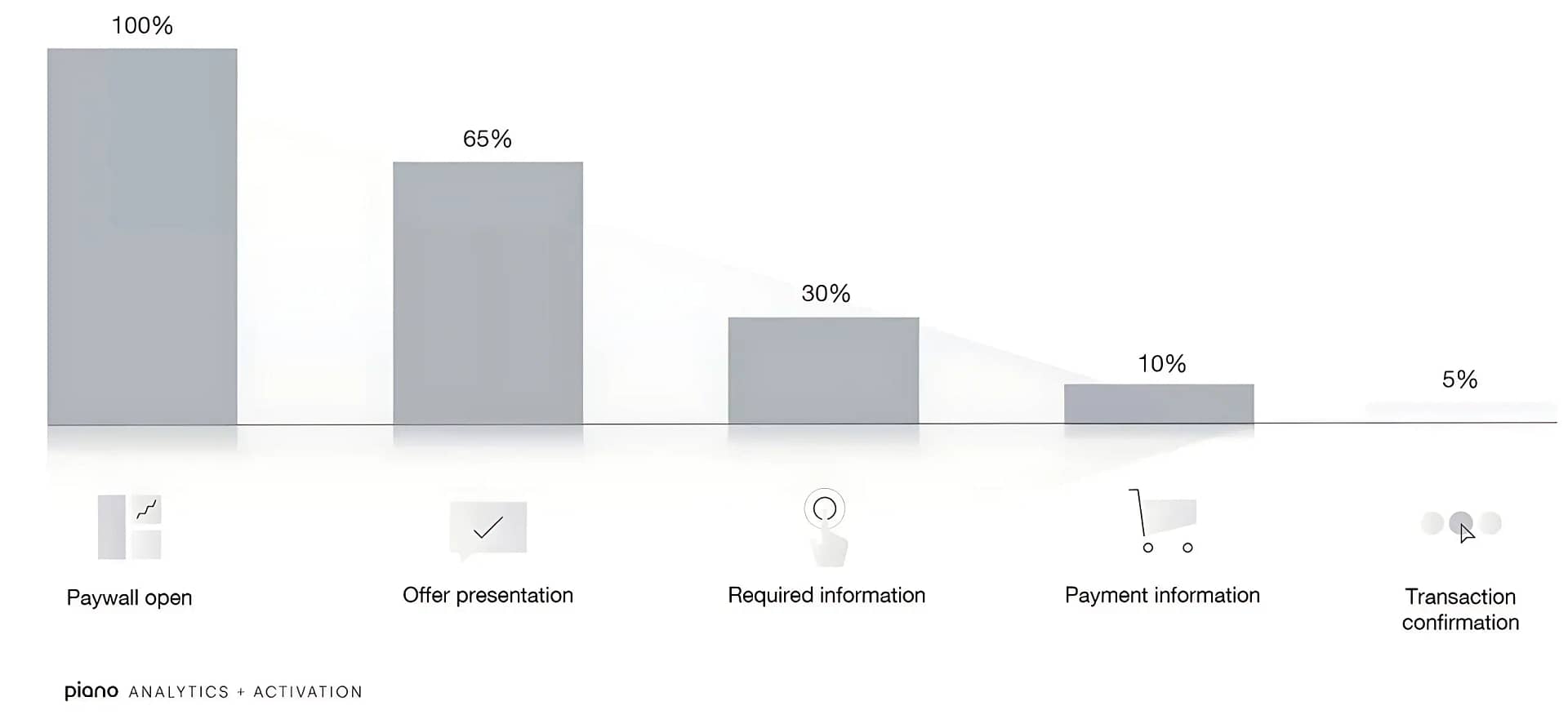 With Google Analytics, understanding conversion funnel performance requires a manual setup of goals and labor-intensive analysis.
Piano Analytics offers such turnkey Funnels tailored for publishers' paywalls and membership:
Funnels are pre-built with conversion stages like View Landing Page, View Article, Start Free Trial, and Subscribe. No coding is needed!
Funnel visualizations provide one-click insights into conversion performance. Identify leaks instantly.
Funnel metrics like Conversion Rate and Dropoff help track optimization impact over time.
Funnel segments analyze conversion by key factors like referring channels and geography.
Funnels integrate with other analytics data like engagement scoring to uncover opportunities.
This demonstrates how Piano Analytics eliminates manual configuration and reporting. Publishers gain visual tools purpose-built for optimizing conversions and revenue generation.
Simplified Implementation and Use
Let's take a closer look at different metrics of Piano Analytics:
Many companies choose Google Analytics by default given its name recognition. But for non-technical users, GA's complex implementation and reporting present challenges:
Extensive tagging and coding expertise are required for site integration.
Technical resources are needed for ongoing maintenance and troubleshooting.
The complex interface creates a learning curve and reliance on analysts for insights.
Piano Analytics removes these barriers to streamline onboarding and daily use for all team members.
Implementation requires merely pasting a lightweight JavaScript tag on the site to enable tracking. No development or tagging expertise is needed.
The visual drag-and-drop workflow builder eliminates coding for funnel definition, audience segmentation, and more. Business users can build dashboards tailored to their analytics tasks.
Out-of-the-box reports and charts with robust filtering provide access to visitor behavior data without SQL or data modeling skills. Piano Analytics democratizes data access across your organization.
Lower Total Cost of Ownership
At first glance, Google Analytics may appear "free" to use. But the hidden costs and resource drain of GA pile up:
Significant development time for implementation and maintenance.
Ongoing tagging assistance is needed from engineering teams.
Data analysis requires expensive analytics experts.
Changing requirements leads to frequent one-off reporting costs.
The "free" version lacks capabilities like data exports requiring upgraded paid plans.
Add this all up and the total cost of ownership exceeds initial expectations.
Conversely, Piano Analytics offers predictable pricing scaled to needs. The simplified setup and use significantly reduce operating costs:
No developer resources are needed for installation or maintenance.
The intuitive interface enables business users to self-service for insights.
Data exports and integrations are included in plans to reduce overhead.
Lower maintenance costs without constant site tagging changes.
For larger publishers, Piano provides strategic services for custom reporting and analysis to maximize ROI. This optimized approach lowers TCO while driving more value from analytics.
Conclusion
This guide provided tangible examples and tutorials demonstrating why Piano Analytics is superior to Google Analytics in 2023 and beyond. Key takeaways include:
Addresses pressing data privacy concerns with lawful collection.
Robust security and privacy protections built-in.
Accuracy and reliability advantages.
Specialized functionality for publishers' needs.
Simplified for business users with less overhead.
Reduced total cost of ownership.
Google Analytics set the standard for free web analytics but has not kept pace with user expectations and publisher requirements.
Piano Analytics offers the features, compliance, and usability needed to maximize value and minimize risk. For publishers and media companies, the time has come to graduate from Google Analytics. With Piano, embrace an analytics platform purpose-built for your success.